To schedule a showing of our new 32' home located in San Luis Obispo contact Simple Homes for Simple Living's Founder Kenny Gazin directly with the buttons below.
Our Simple Homes for Simple Living designs arose from the idea of simplicity without sacrificing beauty, practical necessity and comfort.
We are the first company in the state of California accepted for approval building and installing a Tiny House..
Designed and handcrafted in our own manufactory – in our beautiful home town of San Luis Obispo, California.
We assembled a first-class team of skilled individuals – searched for the best suppliers and materials to achieve a perfect balance of affordability, durability, function and design. …and the journey begins.
Simple Homes for Simple Living are free standing fully self-contained houses that's design and structure allow them to be installed and uninstalled on various sites several times over.
Simple Homes for Simple Living is an all-inclusive (turnkey) service that provides customer-controlled costs and timetables alleviating unnecessary stress and worry.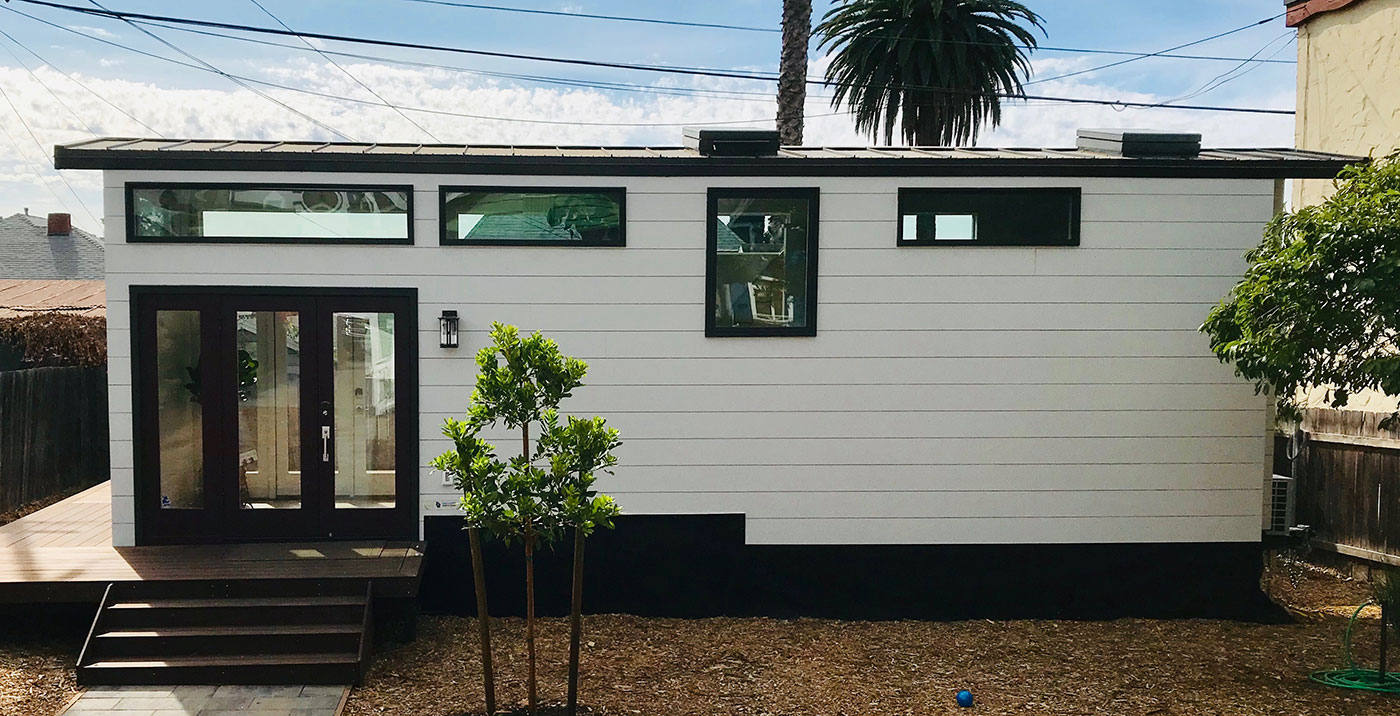 Customer customization (colors, interior details) – Available options (decking, solar, air conditioning, washer/dryer, purified water, and security systems)
All Simple Homes for Simple Living are Integrated and pre-wired for the latest technologies including: Solar, High-Speed Internet, Cooling, and Security Systems.
Built for healthy living – Simple Homes for Simple Living are built with the environment and health of family members in mind – we use sustainable and recyclable materials wherever possible – so your home is as healthy as possible – for you – your family and our environment.
No room or space is wasted – We have considered every detail to make the most of all useable space – keeping your home comfortable and simple. 
Our simple homes are instantly ready to be used once installed and connected to utilities.
Come build with us!

SIMPLY BEAUTIFUL THIRTY-TWO:
(our largest) 32' long approx. 241sq ft + loft

SIMPLY BEAUTIFUL TWENTY-FOUR:
24' long approx. 207 sq ft + 64 sq ft loft

SIMPLY BEAUTIFUL TWENTY:
20' long approx. 172 sq ft + 64 sq ft loft
*All of our homes are 8'.6" wide and 13.6" high.
We offer complete installation from delivery, permits, completed utility connections.
*Approved for legal and safe transport without special permits on all roads and highways.
SIMPLE HOMES FOR SIMPLE LIVING INCLUDE
Open space living room with built in seating and storage

Full size sleeping loft or lower depending on model and customer requirements, fits a queen mattress

Modern bathroom and kitchen with shower, full size sinks and toilet, all electric stove, oven, refrigerator and energy efficient water heater system

Built in modern and efficient LED interior and exterior lighting throughout

R13 – R19 insulation for optimum quietness, heating and cooling retention

Thanks to the solid construction and reasonable weight our homes can be installed on any all-weather surface
1-year construction warranty

Lifetime warranty on frame and chassis, floor and axles

All name brand appliances and fixtures include manufacturer's warranty

Transported in one piece sparing customers time delays, cost overruns, without all the noise, fuss and other inconveniences that come with normal construction work
Options: Air conditioning, solar, washer/dryer, water purification, electronic security
CALIFORNIA DEPARTMENT OF MOTOR VEHICLES CERTIFICATION / TITLE
CERTIFICATIONS TO ENSURE BOTH NFPA 1192 – ANSI A119.5 BUILD/QUALITY CODES REQUIREMENTS NFPA 1192 2018 ED. OR ANSI A119.5 2015 ED.
NFPA 70 NEC 551 OR 552 2017 ED. ANSI/RVIA LOW VOLTAGE STANDARD 2018 ED
Get in touch directly with our Founders:
CALL (805) 544-9330
OR, simply fill out the form below and someone will get in touch with you as soon as possible for all of your tiny home questions and needs.
You can also email us directly at:
[email protected]
Contact Sales:
[email protected]

Now featuring our newest product Morroom – Custom built back yard studios – fully mobile and ready to work, play and dream